Hi lovelies,
This is Kasey from
preppylove
and I'm so excited to be blogging today for Jennifer! I adore this blog. It's sad to say, but school is already starting back up soon! I don't know where my break went, but I knew it went too fast.
I'm sure most of us girls cherished the days when our mothers would take us back to school shopping before our first day back. Sadly, my mom no longer takes me on a big back-to-school shopping extravaganza, but that doesn't mean I can't take myself on one! For those of you who are working and no longer get long breaks, this is also a great time to treat yourself. As the stores are transitioning seasons, the cute winter things that we can still wear for months are going on sale! If I were to take myself on a shopping spree, here are some of the gorgeous little pieces I would pick up: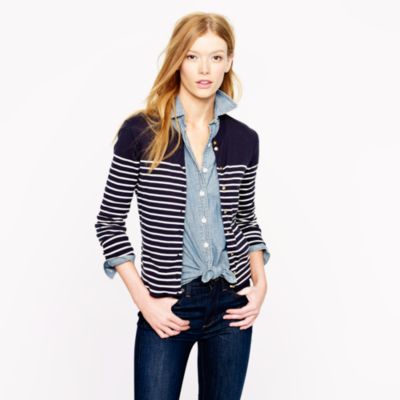 Jackie Cardigan in Stripe
from J.Crew. Sadly, the navy and white one is not on sale, but there are two other colors that are.
The Lucy Blouse
from Annie Griffin- Now on sale for $160. How pretty is that swiss dot? Such a classic style.
Brunch Skirt
by Elizabeth McKay- Now on sale for $156. This can definitely be worn year round!
Loren Hope
Pave Link Bracelet (sold out right now)
Boyfriend Signet Ring
by Moon & Lola. I have wanted a signet ring forever, but they are just too expensive for me right now!
That's my back to school list! What is on yours?
Thanks for having me today guys! Make sure to come visit me at preppylove!